Once, purchasing a good home receiver for many people was a pipe dream. The reason behind it was the high cost and limited offers on the market. However, times are changing, and many can afford a decent receiver today. Furthermore, the market is filled with numerous different players. Denon and Marantz receivers' comparison will allow you to make your own opinion about these well-known brands and see which one will be more assertive in this battle of the industry titans.
Creating an excellent home multimedia system requires fairly deep knowledge, and not everyone can choose high-quality components. Therefore, my review aims to give you information about the two most prominent players in the receiver market and compare their most exciting models. Both companies have a wide range of products, and you can mistakenly buy a receiver that may not fully meet your needs. So read on, study, and make an informed and right choice.
Differences between Denon and Marantz AV receivers
Modern-day products continuously improve and carry more and more various features onboard. However, regardless of the brand, AV receivers often use almost the same component base and standard technologies. Therefore, finding the difference between models of the same class from different brands becomes pretty tricky.
There is still one metric that strongly differs from one company to another. Yes, we are talking about sound. The best way to finally decide which side you take in the Marantz vs. Denon battle is to pay attention to sound. Marantz AV receivers offer softer and more readable sound. At the same time, Denon focuses on warmth and dynamic bass sound. While Marantz pays attention to balancing bass with other sounds and makes it only supplement the main sound picture, Denon receivers offer powerful bass lines. In terms of high frequencies, Marantz offers less detail in comparison to bright highs from Denon.
As you can see, these are pretty specific aspects that the average person (if they are not a music lover or an audiophile) may miss. Therefore, each particular model's features and ease of use are also important. After all, I am sure you agree that if you manage to set up the device quickly and work with it without struggle, it will be a massive plus. That's why I didn't just focus on sound but also features and usability in my tests.
Marantz vs Denon receivers
Speaking about the company's history, Marantz came to the market in 1951. It originates from New York. Today, their main office is located in Japan. They design reliable home receivers, supplement their products with various features, and enjoy a reputation as a consistent and productive company. Their focus on innovation and the quality of their products built a great brand. Although the company has changed 4 owners, it still maintains this tradition.
On the other hand, Denon is a much older company. It was established in 1910. From the very beginning, the company focused on audio-visual products. It is famous for launching the first vinyl production in Japan and the first viable PCM recorder in the commercial market. Their products have never been considered cheap because the company focuses on delivering reliable and capable solutions. This gave them a positive image around those who don't want to compromise when buying audio equipment.
Each of these brands reflects industry quality standards and is very popular with fans worldwide, loving them for the quality of their products. However, comparing these big players in the market requires testing their products of the same class in several price ranges. Therefore, let's move on to the most exciting part.
Premium AVR comparison
Let's take a closer look at their premium home theater AV receiver product line. For this topic, I chose their top-tier models. The SR8015 represents Marantz, and the AVR-X6700H stands for Denon.
Each receiver has a rather vast set of functions and design features. I will not analyze every capacitor or compensator since few people will appreciate the difference between Nichicon and Jamicon capacitors. I will also leave out the other highly specialized technical details of these models. Instead, I will focus on the most critical parameters any buyer should consider before purchasing.
Marantz SR8015 vs Denon AVR-X6700H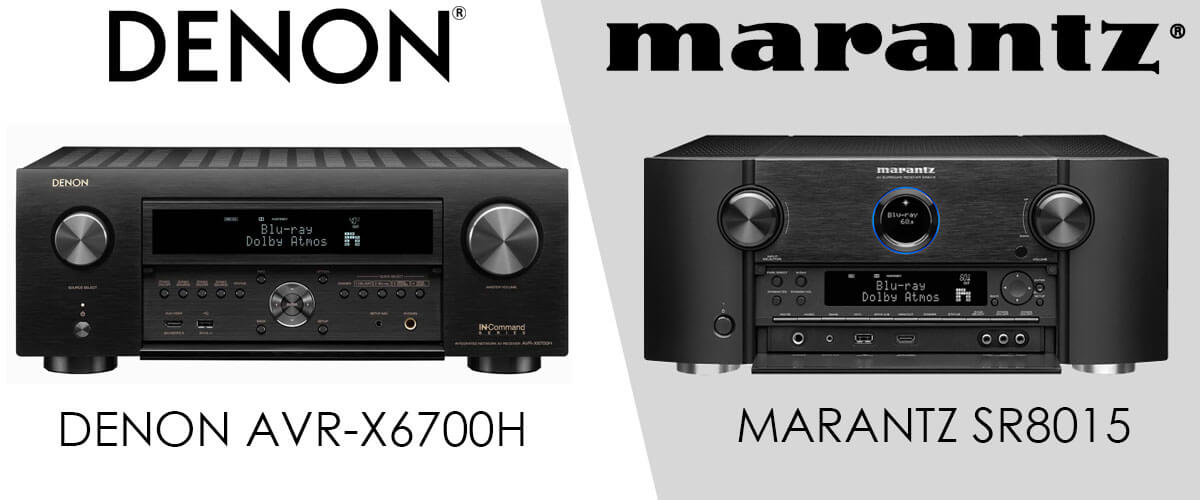 To begin with, let's compare the main features and specifications of both AV receivers.
| | | |
| --- | --- | --- |
| Model | Marantz SR8015 | Denon AVR-X6700H |
| Channels | 11.2 | 11.2 |
| Power output | 140W/8 Ohm, 175W/6 Ohm | 140W/8 Ohm, 175W/6 Ohm |
| Sound features | Dolby Atmos, DTS:X Pro, Auro 3D capable | Dolby Atmos, DTS:X Pro, Auro 3D capable |
| Multichannel Pre Out | Yes (13.2) | Yes (11.2) |
| HDMI inputs/outputs | 8 (one 8K input) / 3 (2 x 8K for MAIN, 1 x 4K for ZONE2) | 8 (one 8K input) / 3 (2 x 8K for MAIN, 1 x 4K for ZONE2) |
| Video Features | HDR10, HDR10+, Dolby Vision, 8K Upscaling, 8K Passthrough | HDR10, HDR10+, Dolby Vision, 8K Upscaling, 8K Passthrough |
| Video Conversion Analog to HDMI | yes | yes |
| Analog to HDMI Scaling | 480i/576i up to 8K 60/50 | 480i/576i up to 8K 60/50 |
As you can see, both models are pretty much the same in terms of their main characteristics and features. An interesting moment is that the SR8015 has a built-in toroidal transformer. It is a much more costly solution but allows the receiver to reduce the level of electromagnetic noise it produces. Thus, you can expect fewer interferences if you have unshielded sound cables.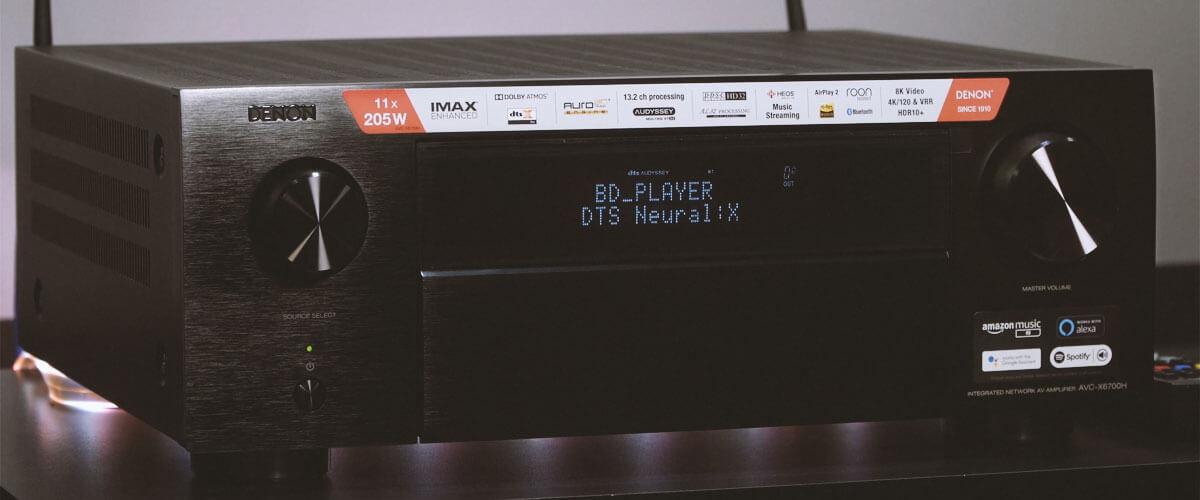 As you can see, both premium AV receivers have a vast set of features onboard, including support of DTS:X Pro with Neural:X upmixer. In addition, these units are thoroughly packed in terms of streaming capabilities and offer support for all popular streaming standards. However, both models provide different sounds due to the various technologies. And this can be the real game changer that will bear weight on one side or the other in the Marantz vs. Denon receivers' battle.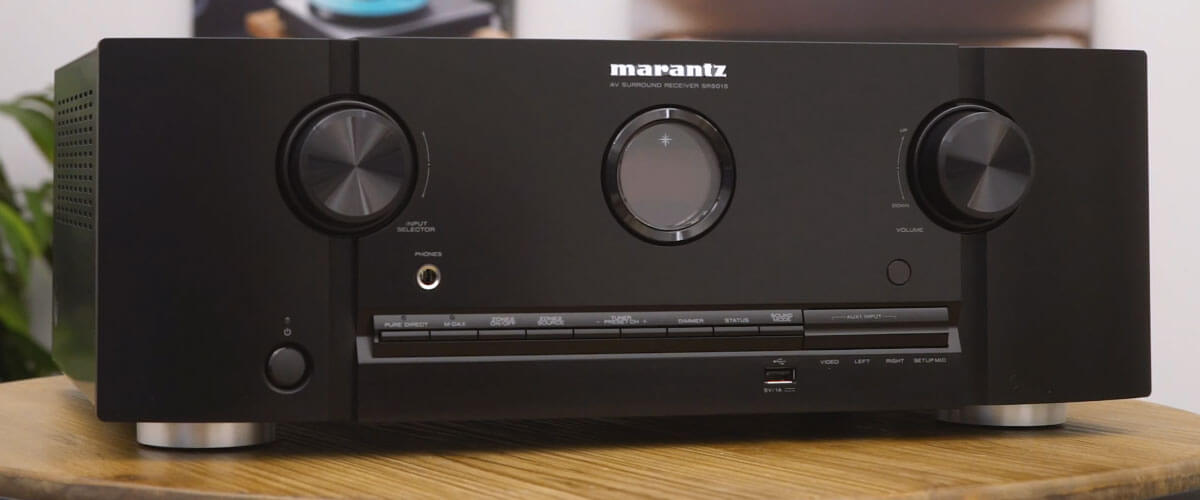 The SR8015 uses proprietary Marantz MDAX2 technology, providing a more precise and detailed sound. On the other hand, Denon utilizes Dynamic Discrete Surround Circuit, which helps a great deal with signal processing and performance. Combined with a unique interpolation algorithm, it improves the sound without losing the original data, delivering precise localization and extended dynamic range.
So, in the Premium product range, the SR8015 by Marantz shows a clear and detailed sound, while Denon hits with exceptional localization and dynamic range. Therefore, I can conclude that your taste is the essential factor in choosing from this price range. If you prefer a detailed sound, then the SR8015 is definitely your choice. On the other hand, if you are into the dynamic range of a sound, then choose the AVR-X6700H.
Marantz SR8015
Denon AVR-X6700H
Mid-priced AVR comparison
High-end receivers almost always offer the same features supplemented by companies' proprietary technologies and unique developments. Thus, it is all mostly about choosing a receiver that sounds the way you like. Things get more interesting in mid-range, as the competitors show notable differences now. The Marantz SR6015 and Denon AVR-X3700H face each other in the mid-price section.
Marantz SR5015 vs Denon AVR-X2700H
The test of models in the middle price segment is the most relevant task. The receivers of this price class are the most popular among the users because of their reasonable price and a rather extensive set of functions. That is why I will consider two popular models, Marantz SR5015 and Denon AVR-X2700H.
Marantz SR5015 Denon AVR-X2700H
Channels
7.2
7.2
Power output
100 W/8 Ohm, 140 W/6 Ohm
95 W/8 Ohm, 125 W/6 Ohm
Sound features
5.1.2 Dolby Atmos
7.1, 5.1 or 2.1 Dolby Atmos
HDMI inputs/outputs
6/2
6/2
Video Features
HDR10, HDR10+, Dolby Vision, 8K Upscaling, 8K Passthrough
HDR10, HDR10+, Dolby Vision, 8K Passthrough
Video Conversion Analog to HDMI
yes
no
Analog to HDMI Scaling
480i/576i up to 8K 60/50
no
Both receivers have six HDMI inputs with HDCP 2.3 and two outputs. Regarding connectivity and support of streaming services, the receivers show similar results being compatible with Apple AirPlay, Alexa, and Google Assistant.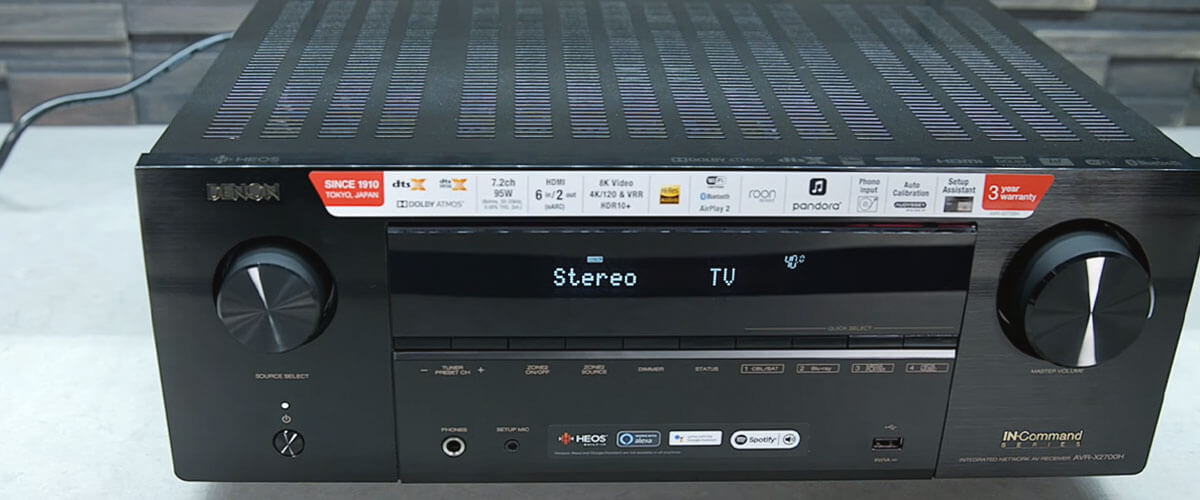 The difference was evident at first glance when I started comparing the power of the receivers. While both models come close in terms of power, they have to drive 8-ohm speakers (100W for SR5015 and 95W for the AVR-X2700H). While this difference can be neglected, their power consumption differs. Thus, the SR5015 consumes an incredible 650W per hour, while the AVR-X2700 draws only 500W. In my opinion, the difference is substantial, affecting not just your electricity bills but also the SR5015 heats way more than the SVRX2700.
The units also differ in terms of upscaling. The SR5015 holds first place among these two offerings, with 8K 60/50 frames per second upscaling feature. At the same time, both receivers offer support of 8K passthrough and other video technologies. Otherwise, the video functions of these models are equal and quite suitable for creating a good home theater.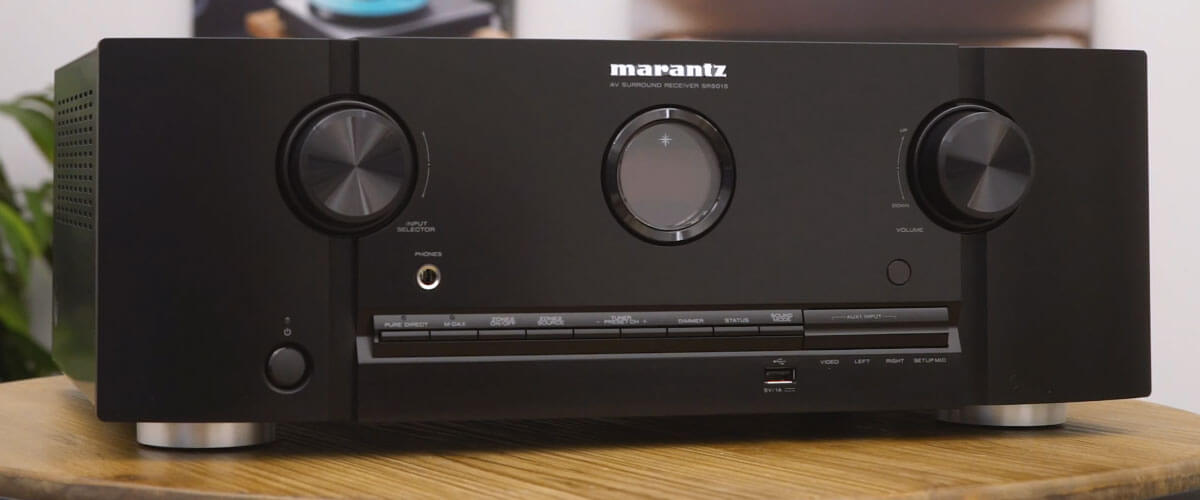 Talking about sound, both models offer the same features and options. Sadly, none of the two contestants support HEOS-compatible speakers. Yet, they both allow the creation of a multi-room setup with Zone 2 features. The receivers support practically all modern formats, enabling any type of media format. During the sound test, I had no complaints. Everything was on par. You must understand that each brand uses specific components, ultimately determining its unique sound. That's why some people love Marantz, while others think the sound that Denon models produce is excellent. However, there is no denying that Marantz or Yamaha are just as good. It's just a matter of taste.
Marantz and Denon show very high-quality results in this price range. These are two worthy models among which there is no clear favorite. The SR5015 showed an outstanding balance in sound and was great for gaming and watching movies. At the same time, the AVR-X2700H offers top-quality sound when listening to music from classical orchestral pieces up to heavy metal songs and shows itself better for music lovers.
Marantz SR5015
Denon AVR-X2700H
Marantz SR6015 vs Denon AVR-X3700H
First, let's take a look at the main features of both units.
| | | |
| --- | --- | --- |
| Model | Marantz SR6015 | Denon AVR-X3700H |
| Channels | 9.2 | 9.2 |
| Power output | 110W/8 Ohm, 150W/6 Ohm | 105W/8 Ohm, 135W/6 Ohm |
| Sound features | Dolby Atmos, DTS:X capable | Dolby Atmos, DTS:X, Dolby Pro Logic IIz capable |
| HDMI inputs/outputs | 7 (single 8K input) / 3 (2 x 8K for MAIN, 1 x 4K for ZONE2) | 7 (single 8K input) / 3 (2 x 8K for MAIN, 1 x 4K for ZONE2) |
| Video Features | HDR10, HDR10+, Dolby Vision, 8K Upscaling, 8K Passthrough | HDR10, HDR10+, Dolby Vision, 8K Upscaling, 8K Passthrough |
| Video Conversion Analog to HDMI | yes | no |
| Analog to HDMI Scaling | 480i/576i up to 8K 60/50 | no |
Both receivers support up to 7 HDMI inputs supplemented by HDCP 2.3 security protocol. Also, AV receivers are very close when speaking about video capabilities and technologies.
However, the similarities end here, where the first significant difference arises. Thus, the AV-X3700H doesn't support analog to HDMI video conversion and upscaling. On the contrary, the SR6015 shows itself capable of upscaling 480i up to 8 k at 60/50 Hz. That difference can be crucial for specific buyers.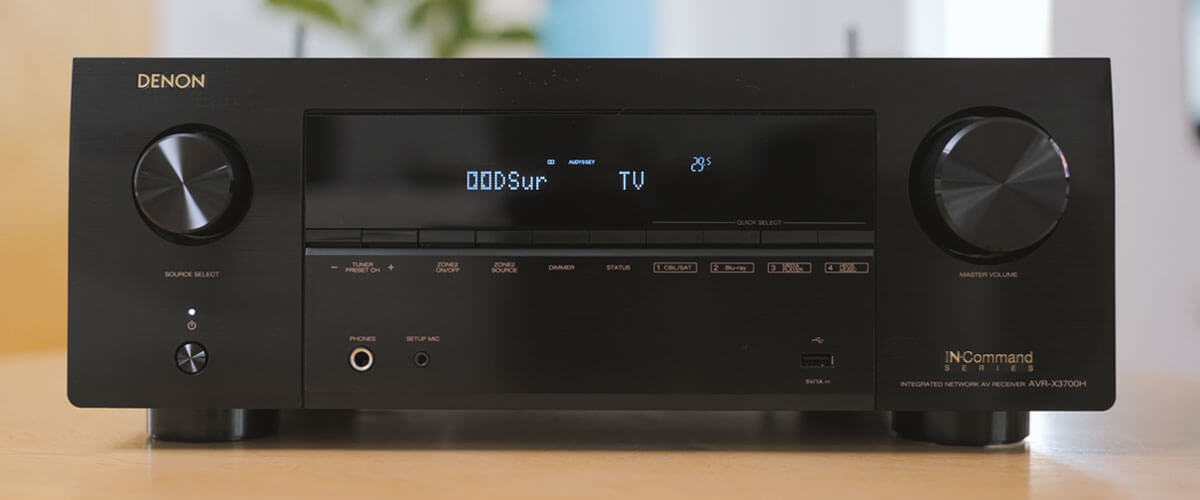 Speaking about the sound, the units offer support for almost the same technologies, with the only difference in Dolby Pro Logic IIz. This technology enhances sound and expands it vertically. The idea is to create a surround sound impression by filling the space in front and above the listener. It is especially noticeable in action movies with helicopters and plane flyovers.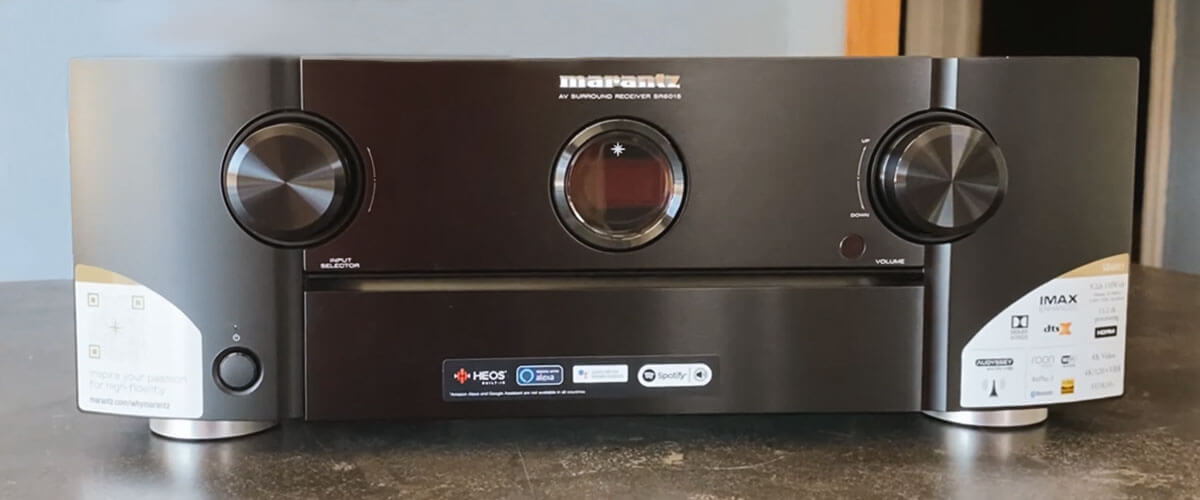 Sound is very tricky to speak about, especially considering we all perceive it differently. However, Marantz SR6015 flooded the room with a pleasant and filled sound. The sound felt very dynamic and lifelike thanks to its detail level. It also suits music due to its increased power. Denon's solution in this product range also shows adequate sound quality, power, and detail.
Based on test results, in this battle for the mid-price range, Denon shows itself as less impressive than Marantz. But at the same time, the AVR-X3700H, due to its excellent fidelity and amazing bass, showed itself to be good for gaming. So, is Marantz better than Denon? In this case, the answer is yes. Yet, there is no wrong choice between these two. Despite Denon losing this battle, it is also a good choice, especially if you plan to spend more time playing games.
Marantz SR6015
Denon AVR-X3700H
Entry-level AVR comparison
Finally, we came to the entry-level AV receiver battle. Last on the list, but not the least important part of today's Denon or Marantz review. Entry-level devices allow one to join the world of home theaters at a relatively low price. The time has come to find out which company has a better option.
Marantz NR1510 vs Denon AVR-S660H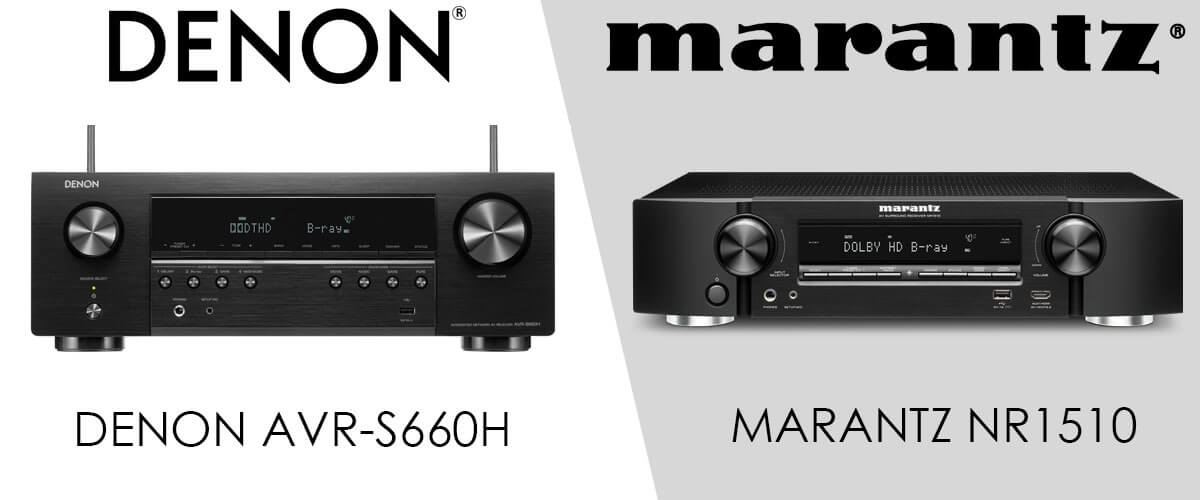 As it happens, first of all, I would like to share the main features of the receivers.
| | | |
| --- | --- | --- |
| Model | Marantz NR1510 | Denon AVR-S660H |
| Channels | 5.2 | 5.2 |
| Power output | 50W/8 Ohm, 60W/6 Ohm | 95W/8 Ohm, 125W/6 Ohm |
| Sound features | Dolby TrueHD, Dolby ProLogic II, DTS HD Master | DTS HD Master, Dolby TrueHD, Dolby ProLogic II |
| HDMI inputs/outputs | 6(1 front)/1 | 6/1 |
| Video Features | HDR10, Dolby Vision, 4K Passthrough | HDR10, HDR10+, Dolby Vision, 8K Upscaling, 8K Passthrough |
| Video Conversion Analog to HDMI | no | yes |
| Analog to HDMI Scaling | no | 1080p and 4K up to 8K 50/60Hz and 4K 50/60Hz |
Talking about the video qualities, it is crucial to mention that the AVR-X2700H has the upper hand here, as it supports video signal upscaling. Its counterpart in today's comparison lacks this feature and doesn't offer any video upscaling at all. The solution from Marantz can play 4k video and supports HDR10 and Dolby Vision. At the same time, Denon surpasses its rival by offering additional support of HDR10+, already mentioned 8K Upscaling, and can play 8K Video.
Units support Enhanced ARC but lack support for the immersive audio decoder Dolby Atmos. They also miss the popular surround sound feature – DTS:X, which is not that unusual for their price range. Instead, the units rely on older Dolby TrueHD and DTS-HD MA.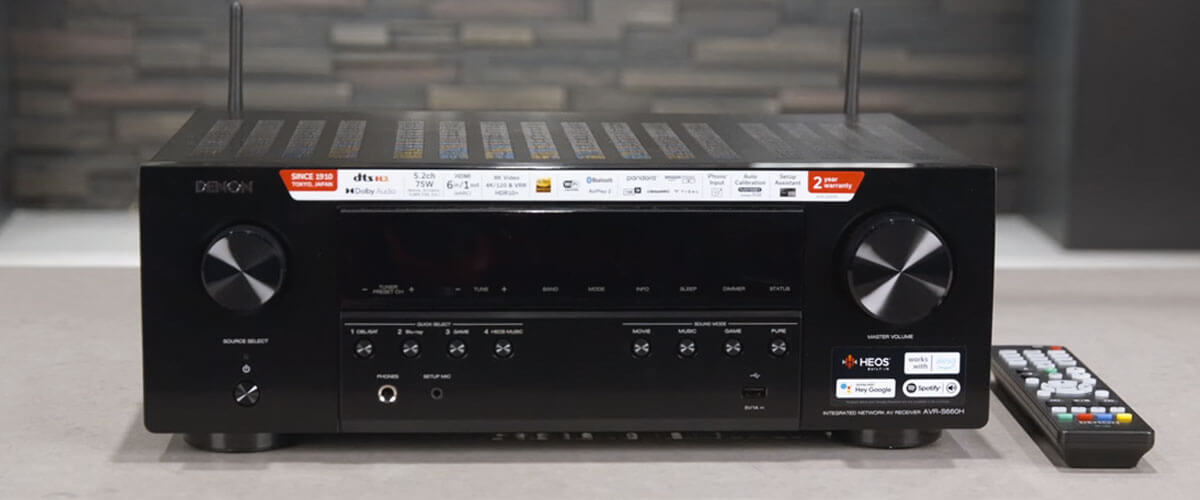 Returning to the comparison of Denon and Marantz sound quality, the S660H offered very decent performance, similar to a more advanced S760H. Thanks to its good power, the receiver perfectly handles all the details of action scenes in movies. Also, it provides high-quality sound distribution when listening to music. However, pushing this receiver to its limits is not a good idea, as sound quality reduces drastically.
On the other side of today's comparison, the NR1510 is far less potent than its competitor, having only 50W of power onboard, which undoubtedly affects the sound quality. In addition, the unit struggles to drive less sensitive speakers.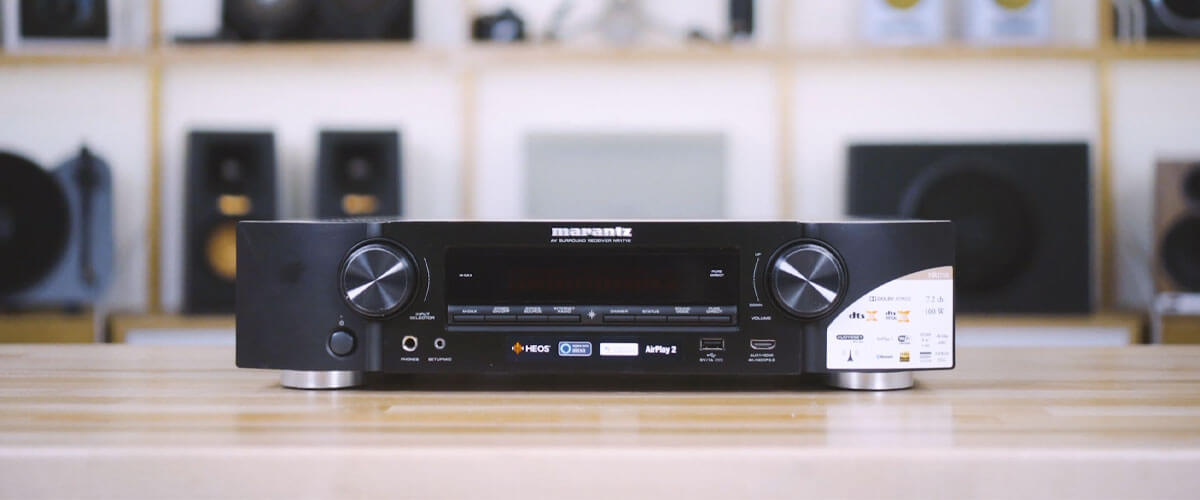 However, when not pushing it, and with sensitive speakers, it can deliver a nicely balanced sound with legible and distinctive highs supplemented by juicy bass sections. Yet, the overall power and requirements it sets for speakers to provide a quality sound make it less capable than the AVR-S660H.
When choosing the first AV home receiver, the AVR-S660H looks like a great option that costs every cent you pay. While not setting any additional requirements for your speakers, it allows you to build a functional entertainment system and enjoy immersive sound at home with the support of 8K video.
Marantz NR1510
Denon AVR-S660H
FAQ
Are Marantz and Denon receivers made by the same company?
No, they are two different companies that specialize in the production of receivers. Each of them uses different innovations, different components, and unique technologies.
Are Marantz and Denon AVR high-end?
Yes, these brands have high-end models. Each brand has its own line of premium products.
Why are Marantz receivers more expensive than Denon?
It all depends on the specific model of the device. Marantz is famous for the quality of its products, the components used in them, and unique technological innovations. That is why some models of this brand can be more expensive than their analogs from other brands.