You might have the most advanced subwoofer that gives you an extra thrill as you listen to your favorite songs or watch a movie with perfectly reproduced low-pitched audio frequencies. But it might lose the richness of its bass when you fail to get a quality cable. The best subwoofer cables ensure minimal signal losses while delivering a line-level audio signal from your A/V receiver, amplifier, or preamp to the subwoofer.
Usually, subwoofer cables are well-shielded mono analog audio cables prone to delivering the signal for long distances. So, when you select one to enhance your audio system, you've got to consider several factors.
In this review, you will discover how to choose the flawlessly-performing cable and will check the unbiased overview of the recent selection of subwoofer cables. I've put together a review of five subwoofer cords and shared my impression of their use.
Our pick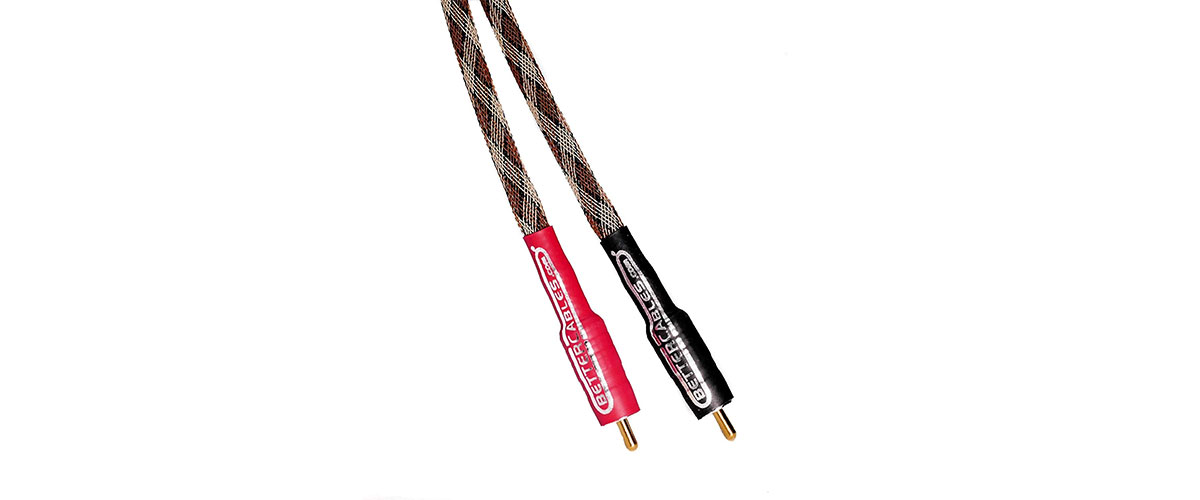 Better Cables Silver Serpent
Best subwoofer cables
High-purity silver coating on conductor (silver is a better conductor than both copper and gold).
Best subwoofer cables reviews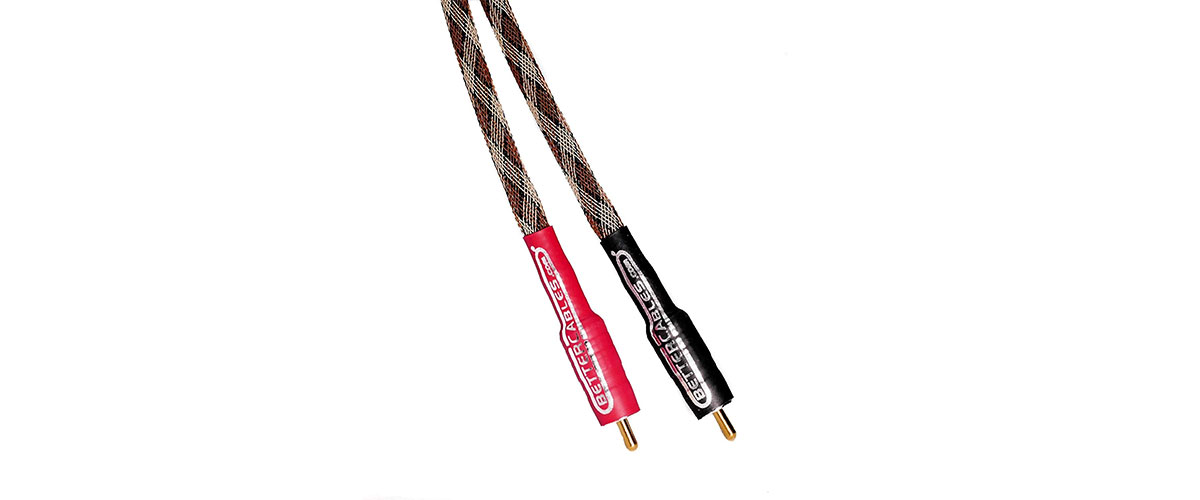 If you would like to instantly improve the playback of your home theater or multi-channel system, the Better Cables Silver Serpent is a great enhancement to your gadgets.
This cord is made in the USA using imported cold-welded connectors. The manufacturer uses a stranded-core silver-coated conductor, which is more conductive than copper. The core of the conductor is made of copper to add warmth to the sound. This results in a silky-smooth analog output with low signal losses. However, I believe it shows its utmost strength with rock or instrumental music, so you may not hear a huge difference while listening to other music genres.
I noticed an increase in sound details with no harshness when the low-frequency special effects have been reproduced. Low 17.3 pF/ft capacitance enables more natural brightness and reduces hisses. Because of nitrogen-injected hard-cell insulation, this cable prevents hums and other interruptions.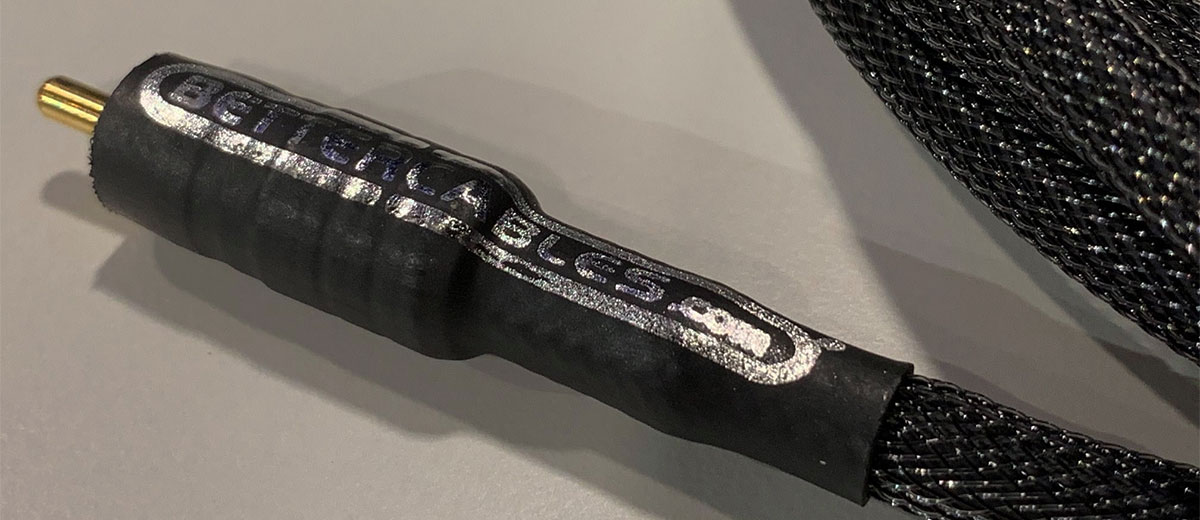 Similar to the AudioQuest Boxer interconnect, this cable has a 95% braided shielding, making it flexible. In addition, it's available in different length options from 1.5 to 15 feet. You can also choose between three color blends.
This model of Better Cables is one of the best subwoofer cable products due to its transparency and neutrality. It reduces hisses and provides zero sonic veilings.
Key specs
Cable length, feet: 3
Also available length, feet: 1.5, 6, 10, 15
Pros
Silver/copper cable for enhanced conductivity.
Low 17.3 pF/ft capacitance for hiss-free sounds.
Various length options: from 1.5 to 15 feet.
Neutral sounding interconnect that doesn't modify the original sound.
Cons
Proved to work better for rock and instrumental music.
SVS SoundPath – budget cable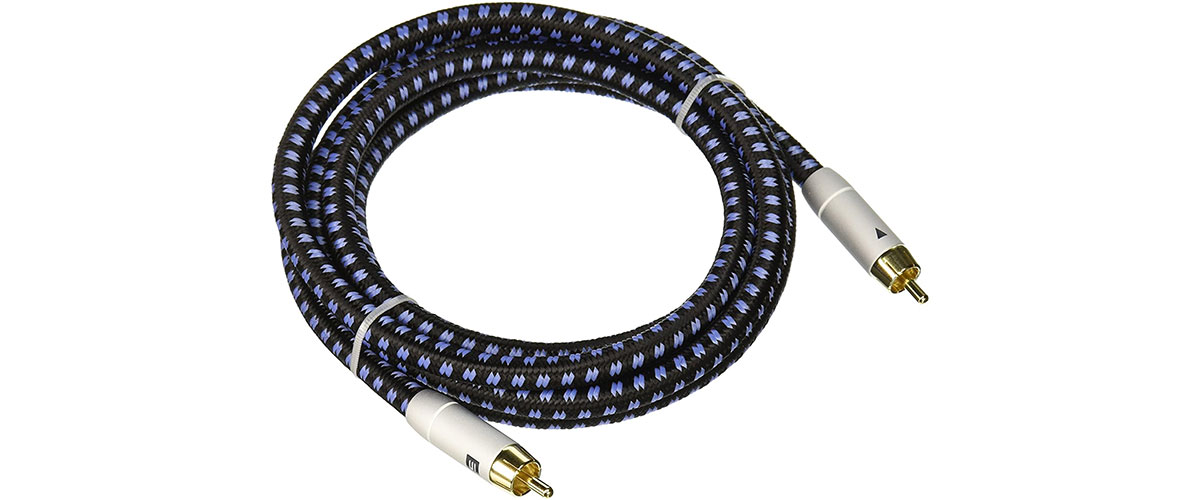 Let your audio system reach its full performance with the SVS SoundPath cable for a subwoofer.
Unlike the AudioQuest Boxer cord equipped with 1.25% silver conductors, this one has a more budget-friendly yet not least effective pure copper conductor. It transmits the signal without delays and promises to serve long.
The five-layer dielectric insulation system does its job of mitigating any interruptions and ensures pristine signal purity. 24K gold plated brass connectors allow you to connect the subwoofer to a wide range of devices, including amplifiers, pre-amplifiers, DVD, A/V receivers, and more. However, the end quality looks somewhat poor – it starts to come off after several uses.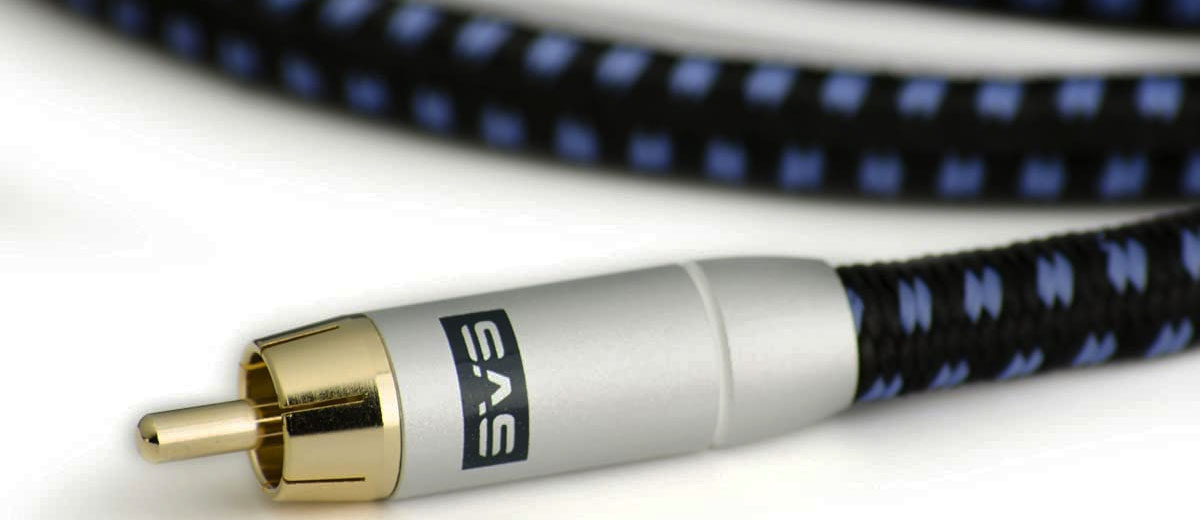 With the ultra-high bandwidth and ultra-low capacitance of this cable, you will enjoy the sound without any hisses or hums, no matter the conditions. The cord length range starts at 3 feet and goes as long as 50 feet. I like metal mesh and foil double shielding that protects the wire. The cable is flexible, so it lays exactly where you put it on the floor.
That's the case when a low-budget SVS SoundPath cable can outperform some expensive cords. This is the best wire for subwoofer in the budget segment, and you can't beat it for the money.
Key specs
Cable length, feet: 10
Also available length, feet: 3.2, 6.5, 16.4, 26.2, 39.3, 49.2
Pros
Pure copper conductor for quick signal transmission.
Ultra-high bandwidth and ultra-low capacitance.
Double shielding for pure sound.
Flexible cable from 3 to 50 feet.
Cons
Brass connector wears out quickly.
AudioQuest Boxer – premium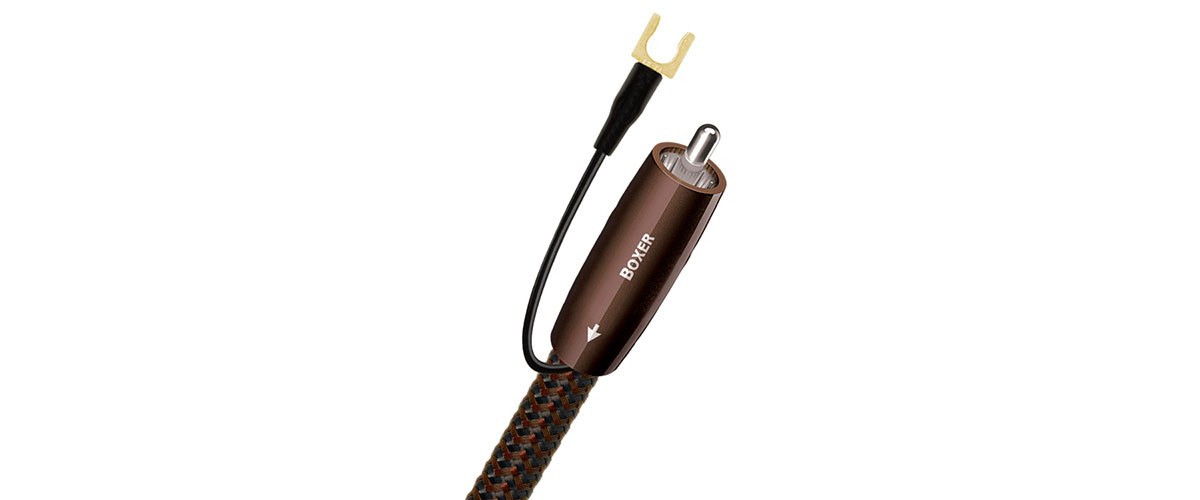 This AudioQuest Boxer cable with RCAs at both ends will enhance the powerful bass of your subwoofer.
It features silver-plated copper conductors that maximize the analog signal transition through the cable and ensure a distortion-free sound output. In this way, it is similar to the previously reviewed Better Cables cord.
But what makes these cables different is the polyethylene air-tube insulation on both conductors in the AudioQuest Boxer wire, which provides enhanced clarity. A three-layer noise-dissipation system delivers innovative noise absorbing and reflective properties that result in a subwoofer sound without distortion, electrical interference, or humming. The shielding is made of metal and carbon-loaded synthetics for added durability and better flexibility.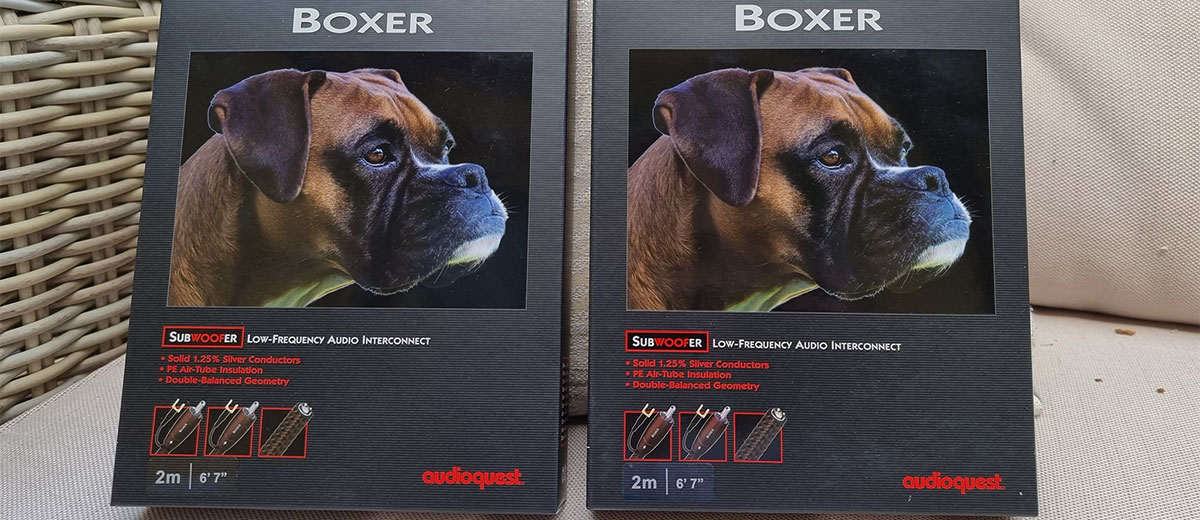 It is not cheap, but it is flimsy neither. The bass is detailed, smooth, tight, and defined. The minor insignificant drawback of this product is the length variety. You can choose between 6 – 65 feet. There is no way to get a shorter subwoofer wire, which might be inconvenient for home use.
Pros
Clear and tight bass, not boomy.
Silver-plated copper conductors for distortion-free signal transmission.
A three-layer noise-dissipation system for sound purity.
Well-made and durable for longer use.
Cons
Might be too long for home use.
AudioQuest Black Lab – also a great choice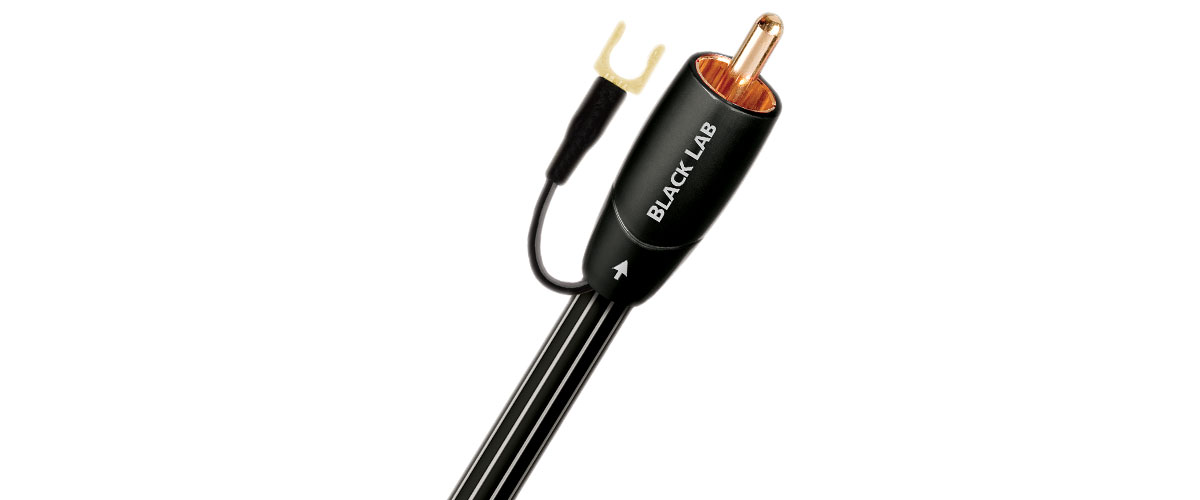 If the hissing sound of your subwoofer drives you nuts, you should try this AudioQuest Black Lab cable out.
If you've never had a hissing problem, you probably won't notice a substantial sound improvement over cheaper options. But if you suffer from the bussing sound, you will fix this issue with this cord without using extra grounding spades.
Just like JIB Boaacoustic Blackberry, this product has solid copper connectors that enable a smooth and clear sound. A metal-layer noise dissipation ensures 100% shield coverage, while foamed-PE insulation efficiently absorbs distortions.
The cold-welded, gold-plated terminations are made with the application of high-pressure techniques, so lower distortions are achieved.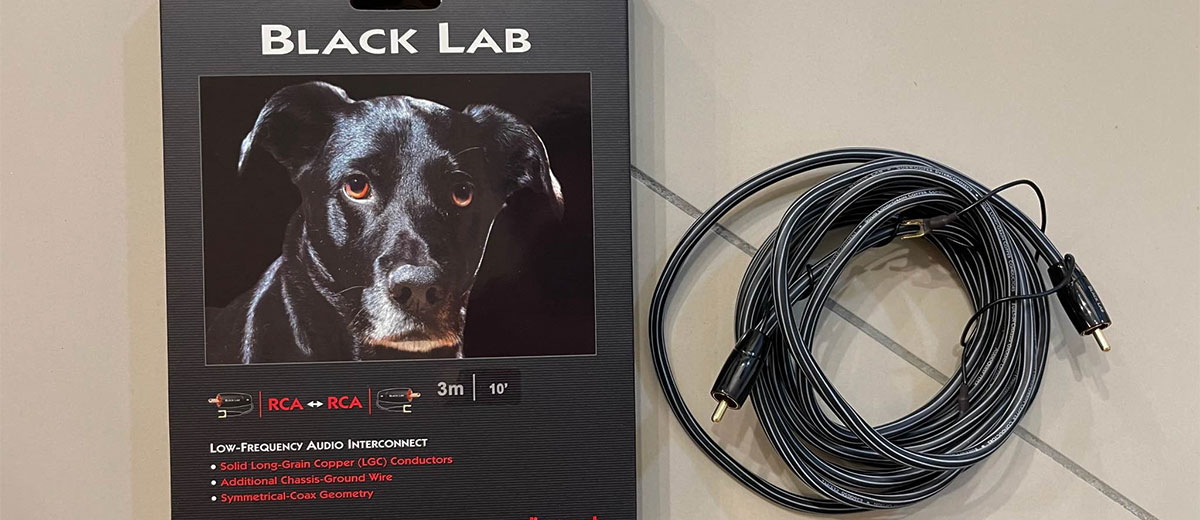 If you are looking for a short home theater subwoofer cable, this might not be the option for you as the shortest this cord can be is 6 feet. It is flexible, though, which is always good.
The Black Lab cable by AudioQuest is an easy solution for audiophiles who would like to get rid of the hissing and buzzing problem of their subwoofers.
Pros
Reduces the hissing and buzzing subwoofer issue.
Solid copper connectors for better signal transmission.
Foamed-PE insulation eliminates distortion.
A flexible cord for ease of use.
Cons
You may want to get a shorter cable or home use.
Doesn't make a big difference in bass reproduction.
JIB Boaacoustic Blackberry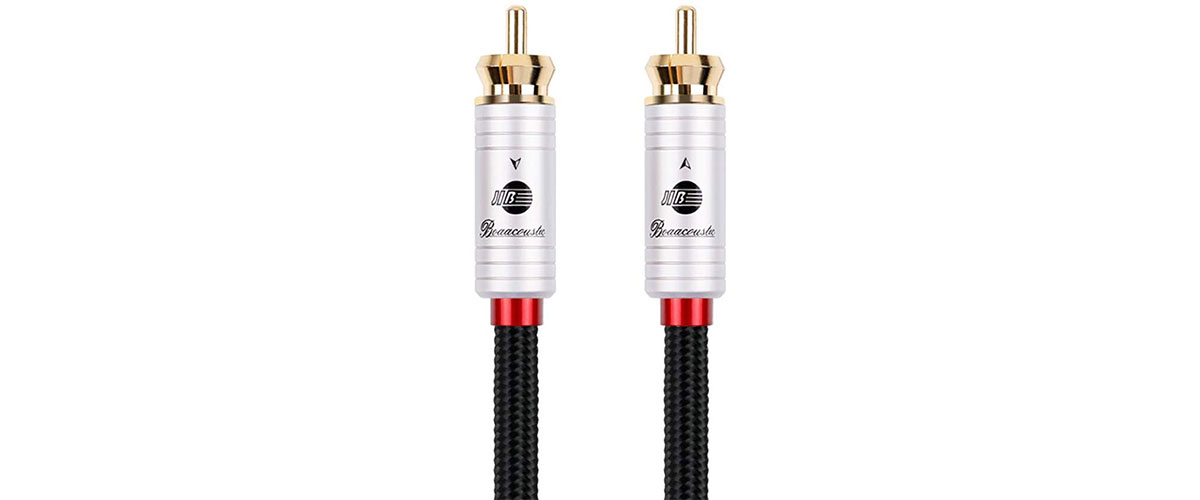 Link your TV or home theater system to the subwoofer with the JIB Boaacoustic Blackberry cord. This wire is designed to eliminate signal losses and absorb any distortions so you can enjoy clear low-frequencies without annoying sounds.
Because it has double shielding that combines black PVC and cotton fabric, this subwoofer does a basic job of eliminating radio frequency interference. The conductor is made of solid copper, which easily conducts analog signals with minimal losses. Standard 24K gold-plated connectors with brass coating are less prone to rusting but have a similar issue with the SVS SoundPath cord – they are not tough enough to withstand frequent use.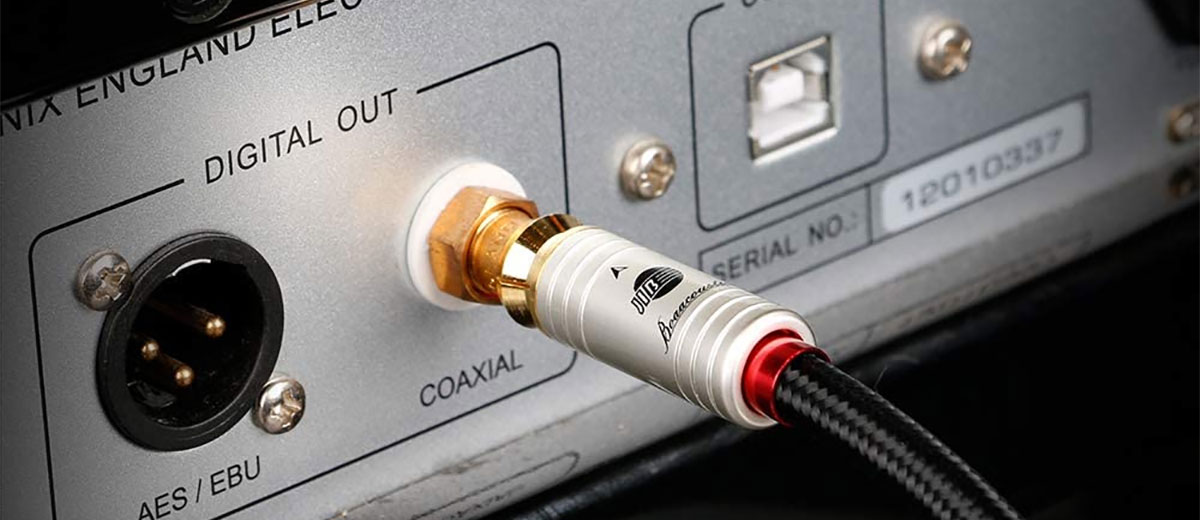 When it comes to the length variety, you can get a 3- to 9-feet long cable. So, if you need a short cord, this one is better than the entries from the AudioQuest brand. But if you would like to host a party, a 9-feet long cable might not satisfy your needs.
To be honest, I traced no change in the bass output. There was very little hissing, which I hoped to get rid of with the quality subwoofer cable. This one didn't fix the problem. But in general, this is a good product to consider if minor hisses do not bother you.
Key specs
Cable length, feet: 1.5
Also available length, feet: 5
Pros
Double shielding eliminates interferences and interruptions.
Copper conductors that do not distort or delay the signal.
Standard 4K gold-plated connectors made of brass.
Cons
Doesn't eliminate the subwoofer hissing much
Might be not too long for some needs.
Brass connectors are not durable enough.
Does the subwoofer cable affect the sound quality?
Most people won't notice much difference in the sound quality based on the choice of the subwoofer cord. So, they have no clue how an ordinary cable can transform the listening experience. However, true audiophiles know the difference and state that a good subwoofer can enhance the quality of the delivered sound.
This is explained by the fact that, in most cases, subwoofers are rarely located next to the devices they are connected to. So, the analog signal should cover some distance before it reaches its destination. It is susceptible to noise and interference on its way, so this impacts the quality of the playback of low frequencies. That is why great cords for subwoofers have extra layers of shielding to maintain sound clarity and reduce audio hum.
As you use a cheap RCA cable for the subwoofer, do not expect the same sound quality as using the subwoofer cable. You might trace some distorting signals, which would definitely affect your listening experience.
Subwoofer cables buying guide?
Sub cables length
Before you buy a cable for your subwoofer, consider your needs and the spheres of its use. If you are planning to use the subwoofer for arranging family movie evenings, you won't need a long cable. But when you are going to host a large party, you may want to have a long subwoofer cable that would connect your sound system and the subwoofer located at some distance.
Anyway, figure out the distance between your audio system and subwoofer to ensure you get the proper length cable. I would recommend opting for the cord that is slightly longer than you need.
Subwoofer wire thickness
The optimal cord thickness for the subwoofer is 12- to 16-gauge. This thickness is essential for ensuring fewer power losses. At the same time, it also affects the longevity of the cable. Thicker wires usually last longer, but it also depends on how sparingly you use them.
Sub cables shielding
Shielding makes a difference as it helps get rid of hums and other external interferences. Poor quality or thin interference barriers do little to mitigate the interruptions, so you can hear noises during the playback.
Shielding made of aluminum foil or braided copper proves to perform well. Cables with double shielding layers are also available, and they are known for excellent hum prevention properties.
Cable conductors quality
If you care about the signal transmission speed, you should look for cables with quality copper conductors. It has advantages over other conductor materials due to its flexibility, durability, and resistance to corrosion, so it has a higher lifetime.
The connector diameter also matters. The thicker connector delivers better capabilities as it will ensure a smooth signal transmission.
FAQ
Which is better: subwoofer cable or RCA?
Generally speaking, subwoofer cables are of higher quality than RCA cables. This is because they are designed to carry low-frequency signals with minimal distortion. On the other hand, RCA cables are designed to carry high-frequency signals. As a result, they tend to be more prone to interference and signal degradation.
Can you use a regular RCA cable for a subwoofer?
There is some debate among audio enthusiasts about whether it is possible to use a regular RCA cable for a subwoofer. Some argue that subwoofers require specialized cable technology to ensure low-frequency signal integrity and minimize distortion. Others contend that modern RCA cables are more than capable of handling the demands of a subwoofer signal. Ultimately, it is up to the individual to decide which type of cable is best for their needs.
Do you need 2 RCA cables for the subwoofer?
No, you only need one RCA cable for the subwoofer. However, some people prefer to use two RCA cables to create a more robust connection. This is unnecessary, but it may provide peace of mind for those concerned about the possibility of signal loss.
Can I use the speaker cable for the subwoofer?
No, you should not use the speaker cable for the subwoofer. This type of cable is not designed to carry low-frequency signals and will likely result in distortion and interference.
Is a subwoofer cable the same as a coaxial?
No, a subwoofer cable and coaxial are two different types of cables. A subwoofer cable is specifically designed to carry low-frequency signals, while a coaxial cable is typically used for high-speed data transfer or video signals. Additionally, coaxial cables tend to be thicker and more durable than subwoofer cables.
Does the thickness of the subwoofer cable matter?
The thickness of the subwoofer cable does not significantly affect its performance. However, using a thicker gauge (AWG) cable can minimize electrical resistance, improving the sound quality. Additionally, using a thicker gauge cable can also help to reduce the risk of signal degradation over long runs.